CX Automation
Allerin's CX Automation solution is designed to improve the customer experience by understanding and addressing the emotional intensity of each transaction. By doing so, it helps insurance clients achieve better customer outcomes, optimize their operations, and remain competitive in a rapidly evolving marketplace.
It leverages AI to optimize self-service and autonomous processing, streamlining decision-making and customer interactions. However, implementing automation without considering the emotional intensity of each transaction can lead to lower customer satisfaction and higher churn rates.
Allerin's CX Automation solution takes a structured approach by evaluating each insurance transaction type based on its complexity and emotional intensity, generating a risk score. This allows the solution to determine the optimal channels, interaction capabilities, and automation options for each transaction type, such as buying a new policy, handling a complaint, or processing a claim.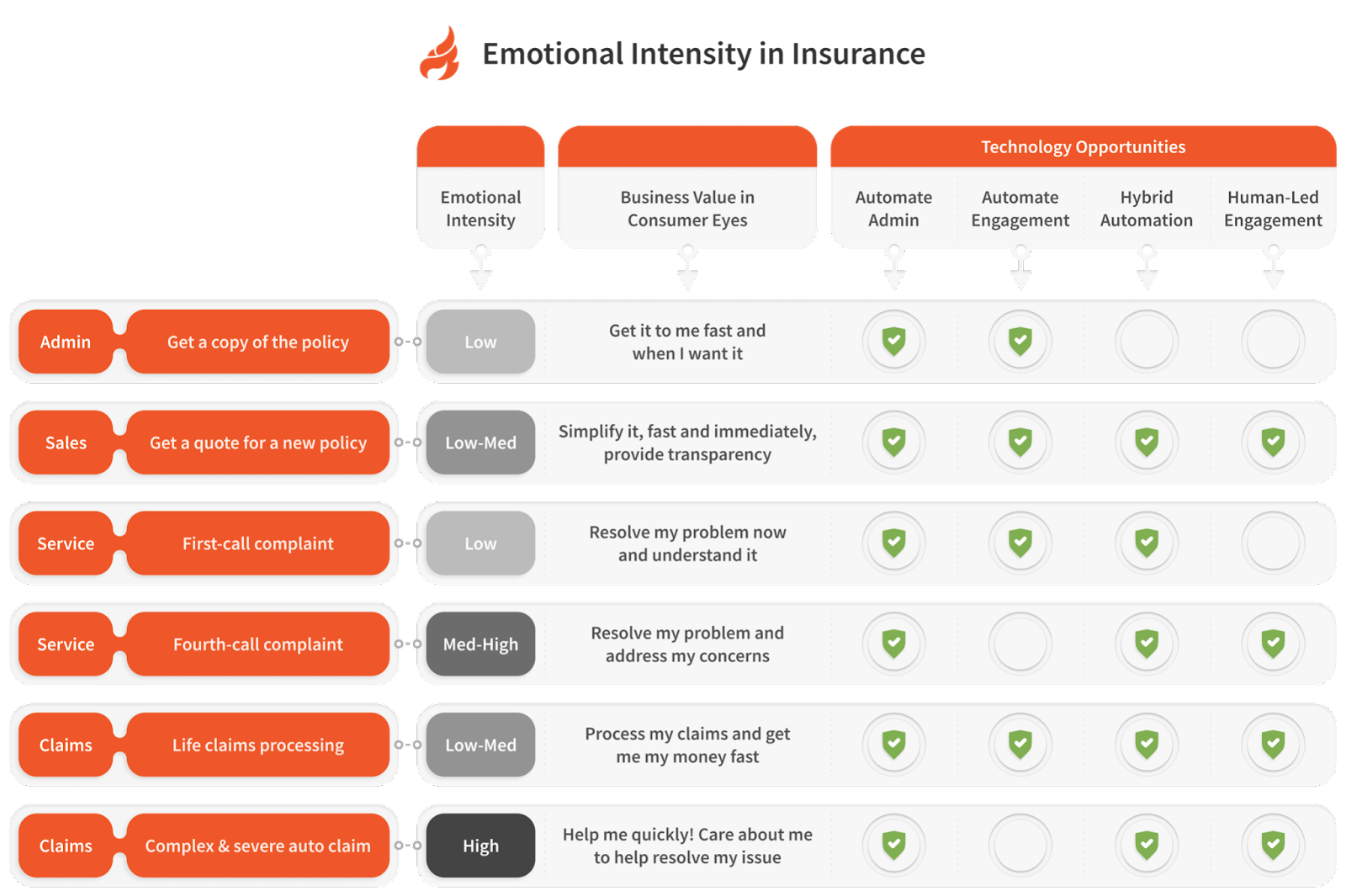 CX Automation also assesses the customer's emotional state for each transaction type, overlaying this information with the customer journey, channel, and digital strategies. This allows it to apply outcomes-based automation and identify key points where engagement needs to pivot to a different channel or method.
Panoptic Personalization Suite
Allerin's Panoptic Personalization Suite offers a comprehensive enterprise-wide strategy for insurance companies to deliver personalized experiences to their customers. The suite combines data sources and technologies, including artificial intelligence, to provide actionable insights and emotional connectivity that enable the tailoring and adaptation of insurance products, pricing, services, and interactions at all touchpoints.
The following features make up Allerin's Panoptic Personalization Suite:
Tailored Customer Messaging
This feature allows insurers to create video technology-based tailored client messages that improve understanding and increase revenue opportunities through upselling or cross-selling.
Customer Journey Flexibility
This feature humanizes customer journeys, reducing drop-off rates and increasing revenue through higher policy conversion rates by making the customer journey and navigation paths more flexible.
Embedding Insurance in Customer Journey
This feature connects offerings to insurance events, increasing relevance and driving revenue by exposing their products, algorithms, and rules to third parties.
Claims Automation
This feature automates known claim events to reduce costs and improve customer satisfaction by enabling digital certainty of claims, reducing processing times and allowing for instant payouts.
Claims Engagement
This feature brings all parties involved in the claim together to reduce costs, improve loyalty, and increase customer satisfaction by speeding up claims processing times.
Call Center Augmentation
This feature uses voice-of-the-customer technologies to improve engagement and client retention by using chatbots and AI-based intelligence systems to provide enhanced customer data to customer service representatives.
Smart Products
This feature builds flexible products that generate net new revenue by using IoT to make real-time offers for value-added benefits.
Business Model Shift
This feature expands offerings to build services aligned to broader customer needs, establishing new revenue by breaking the mold of traditional insurance sales and coupling insurance with other products and services designed to meet actual customer needs.
Crypto and Digital Asset Suite (CDAS)
Allerin's Crypto and Digital Asset Suite (CDAS) is a solution for the insurance industry, offering emerging opportunities for insurance companies to approach digital product development, customer engagement, and risk management. CDAS helps insurers support cryptocurrency transactions, develop products for cryptocurrencies, NFTs, and other digital assets, and serve as cryptocurrency underwriters.
CDAS primarily serves as a crypto-market underwriter, helping insurers underwrite crypto-related risks in two ways.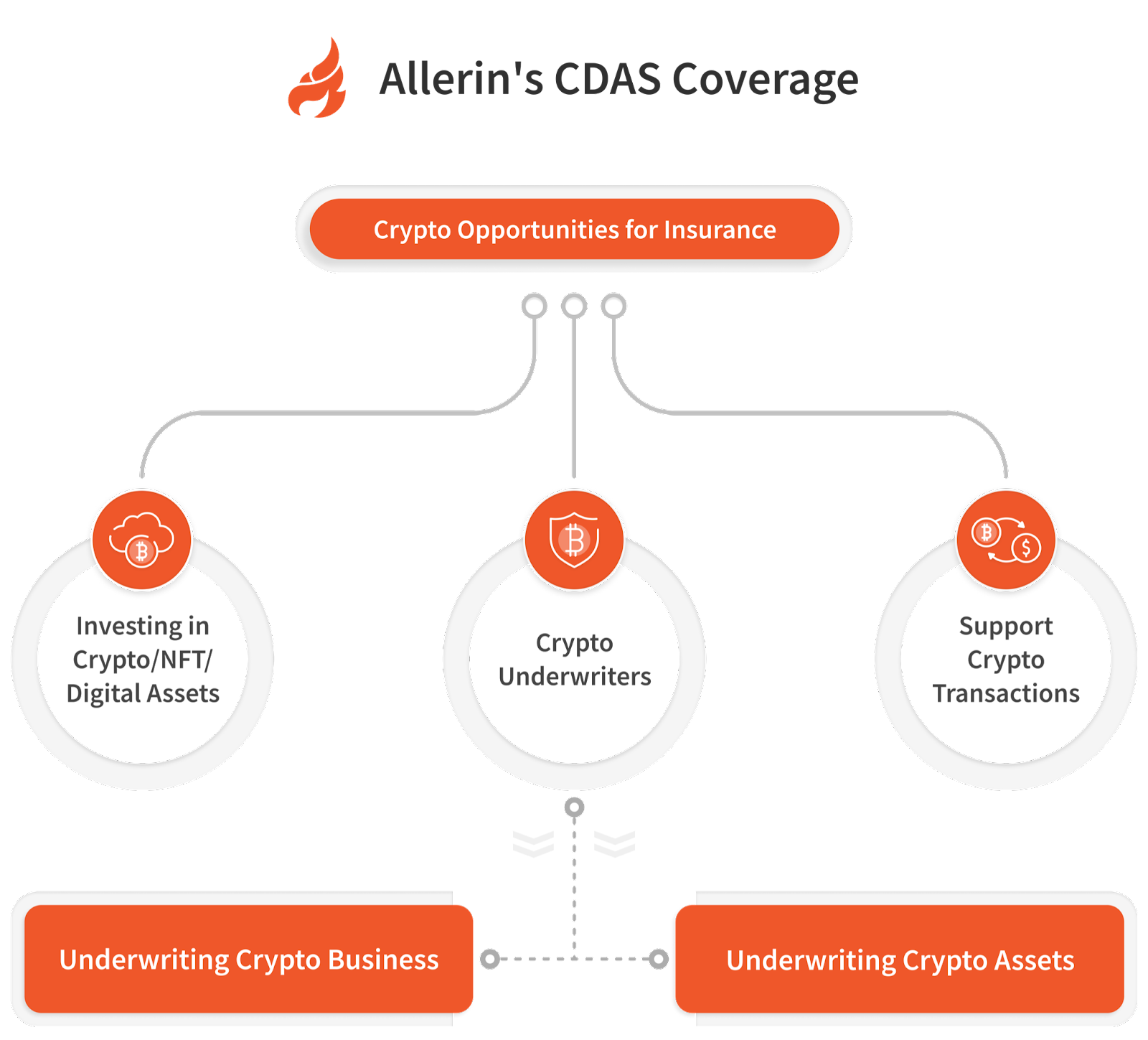 Underwriting Crypto Assets
CDAS enables insurers to underwrite crypto assets, offering crime and custody policies to protect against theft, hacks, and cold-storage key loss. This coverage helps ensure the safety of crypto assets for both individuals and businesses. Additionally, as part of its capabilities, CDAS provides coverage for decentralized finance projects through its integration with Cover Protocol, Insured, Nsure, and UNION. These integrations offer specialized risk management and insurance services for decentralized finance projects, helping to ensure their stability and security.
Underwriting Crypto Business
Using CDAS, insurers can provide coverage for crypto businesses, offering several competitive advantages. This includes crime coverage for crypto custody solutions, digital asset risk transfer abilities tailored to companies operating in the blockchain technology, cryptocurrency, and digital asset arena, crypto asset liability coverage for directors and officers, and the ability to encode insurance agreements into smart contracts. These features help improve transparency, streamline the process, and offer immediate payouts upon execution of terms.
Supporting Crypto Transactions
One of the key features of Allerin's CDAS is its ability to support crypto transactions. This involves accepting cryptocurrencies and stablecoins, as well as central bank digital currencies (CBDCs), as payment forms for insurance policies. This offers a convenient and secure payment option for policyholders, reducing the need for traditional payment methods such as bank transfers or credit card payments.
Additionally, accepting premium payments in the risk currency eliminates foreign exchange volatility, making paying premiums and receiving claims more stable and predictable. By allowing policyholders to pay premiums and receive claim payouts in digital currency, CDAS helps to streamline the insurance process, making it more accessible and efficient for everyone involved.
In conclusion, the ability to support crypto transactions is a key advantage of Allerin's CDAS. By accepting digital currencies and eliminating foreign exchange volatility, CDAS helps insurers to provide a convenient, secure, and stable experience for policyholders. This helps to improve customer satisfaction and engagement while also positioning insurance companies at the forefront of the digital transformation of the insurance industry.
From supporting crypto transactions to underwriting crypto assets and businesses, CDAS has got it all covered. With this solution, insurance executives can communicate the challenges and risks of working with crypto knowledgeably and make informed decisions on integrating it with their existing digital capabilities. They can also keep an eye on what their peers and competitors are doing and create a roadmap for their crypto-based offerings.
It's an exciting time for the insurance industry, and with CDAS, insurance companies can be at the forefront of digital transformation.
Intelligent Telematics for Auto & Motor Insurance (iTAMI)
Auto and motor insurance are always in need of a solution that can enhance the customer experience and reduce costs. With technological advancements, telematics has emerged as a game-changer in the insurance industry. But, traditional telematics only covers a limited aspect of the insurance process. That's where Allerin comes in with its latest offering, Intelligent Telematics for Auto & Motor Insurance (iTAMI).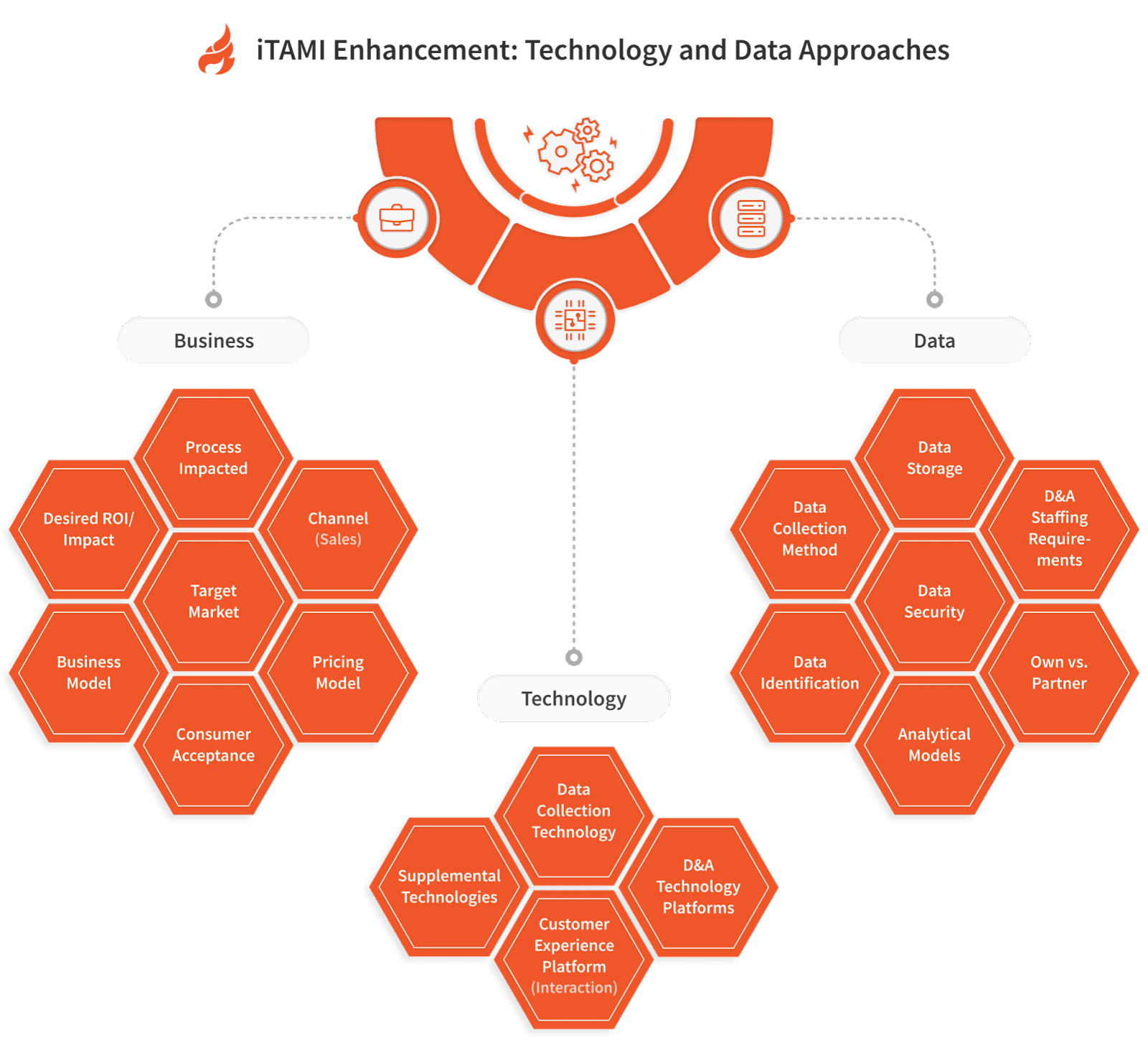 Allerin's iTAMI, or Intelligent Telematics for Auto & Motor Insurance, offers a comprehensive solution for insurance companies looking to take advantage of telematics technology. By adopting a holistic approach, iTAMI considers all aspects of program development, including business demands, technology solutions, and data & analytics strategies. This approach helps insurance companies identify the best path forward, balancing their current and future needs.
With iTAMI, insurance companies can not only improve their telematics offerings but also create new value propositions for their customers. iTAMI helps expand business strategies beyond just pricing to offer innovative use cases across the value chain, leveraging customer data in new ways for marketing, sales, claims, and fraud. The solution also enables behavioral modification through driver education, helping reduce risks and avoid claims.
Allerin's iTAMI solution can be a game-changer for insurance companies. Taking a holistic approach to telematics not only helps to avoid claims, detect fraud, and provide new value propositions to customers but also opens up a world of opportunities for insurers to expand their business strategies. With iTAMI, insurers can innovatively collect and leverage customer data, such as in marketing, sales, claims, and fraud. Additionally, they can modify driver behavior through education, support new customer experiences, and create new revenue streams. With its unique blend of business, technology, and data and analytics, iTAMI promises to revolutionize the insurance industry and provide insurers with a significant competitive advantage.
Intelligent Insurance Process Automation Suite (iPAS)
Allerin's Insurance Process Automation Suite (iPAS) is a comprehensive solution that helps insurers streamline their core processes and maximize the benefits of digital transformation. With iPAS, insurers can identify and document their future data, analytics, and artificial intelligence (AI) needs and develop a roadmap to achieve their digital maturity goals.
At Allerin, we understand insurers' challenges when adapting to the ever-evolving digital landscape. That's why we've developed the Insurance Process Automation Suite (iPAS) to help insurers make the most of the latest digital advancements. iPAS is designed to support insurers as they transform their operations through data, analytics, and artificial intelligence (AI). Whether you're just starting your digital journey or well on your way, iPAS can help you identify and document your future data, analytics, and AI needs and develop a roadmap for success.
iPAS is a comprehensive solution that covers all aspects of the insurance process, from marketing and sales to underwriting, claims, and fraud management. It's designed to ensure that your organization has the proper vision, leadership, staffing, and culture to support your digital transformation. With iPAS, you'll have the tools and guidance to build intelligence transformation strategies, close foundational gaps, and get the most out of your data and analytics. Whether you're looking to power ecosystems, embed intelligence into your systems, or adapt and adjust over time, iPAS has you covered.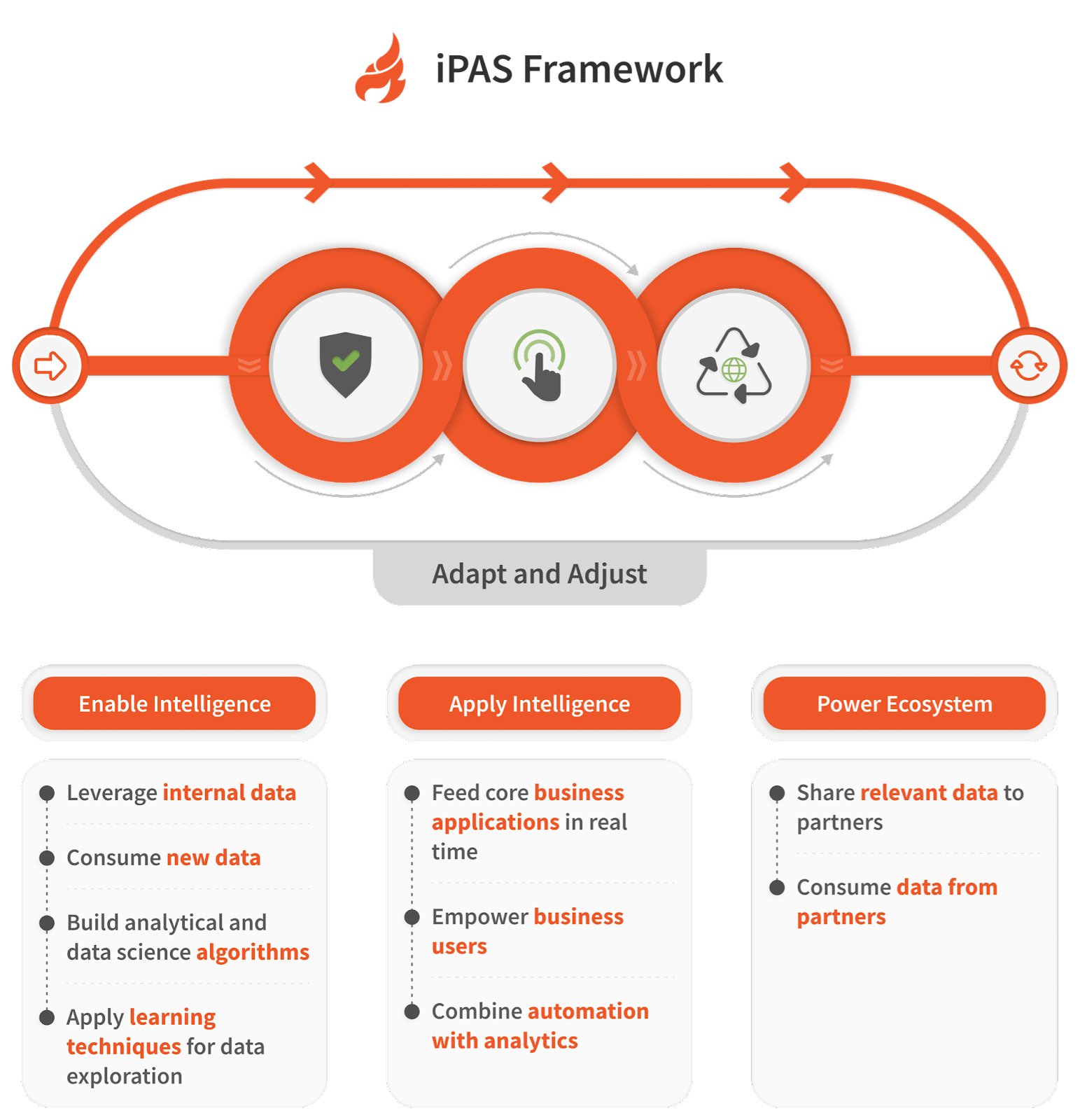 iPAS offers several key benefits to insurers, including increased efficiency, improved decision-making, and competitive advantage. By automating core processes such as marketing, sales, underwriting, claims, and fraud, insurers can save time and resources, freeing up staff to focus on higher-level tasks. Integrating analytics and intelligence into core business applications and automation solutions helps drive smarter decision-making and greater business outcomes. And by integrating ecosystems and partners, iPAS provides insurers with new insights and data that can give them a competitive edge in the ever-evolving digital landscape.
iPAS is designed to address the most pressing challenges faced by insurance companies in their digital transformation journey. The solution covers a wide range of processes in the insurance industry, from marketing and sales to underwriting, claims and fraud management. By automating these core processes and embedding intelligence and analytics into the workflow, iPAS helps insurers to make smarter, faster and more transparent decisions. This, in turn, enables insurers to stay ahead of the competition and deliver a better customer experience. To showcase the full capabilities of iPAS, let's take a closer look at some of the key use cases it covers.
Agent Recommendation Support
This feature within iPAS provides an invaluable tool for insurance agents and brokers. By building a platform for decision-making, customer engagement, and identifying customer needs, agents are better equipped to take the right action to provide the best customer experience. The platform leverages advanced analytics and customer data to help agents understand the customer's needs and offer the next best step to support them. This leads to more effective and efficient customer engagement and helps build customer trust and confidence. The platform ingests customer data, including previous interactions and policies, to provide a comprehensive view of the customer. Advanced analytics are then used to identify the customer's needs and recommend the following best action. The user-friendly platform provides agents with an intuitive interface to support customer engagement.
Autonomous Underwriting
Autonomous Underwriting is a cutting-edge feature of iPAS that aims to streamline the underwriting process by eliminating the need for human involvement. The system uses advanced algorithms and data analysis techniques to assess risks and determine the best course of action for each case. This not only saves time and resources but also ensures consistent and accurate results every time.
The system gathers all the relevant information for each underwriting case and uses this data to make informed decisions. This information could include the applicant's credit score, income and employment history, and relevant medical or criminal records. The system then crunches all this information to determine the risk involved in providing coverage for the applicant and the best policy to offer. The result is a quick and efficient underwriting process that offers reliable and consistent results every time.
Behavioral Modeling (IoT)
Do you have a lot of connected devices in your home or workplace, such as smart appliances, security systems, and wearable technology? Well, with the "Behavioral Modeling (IoT)" feature, your insurance company can use all that data from your connected devices to understand your risk better and make more informed decisions about pricing, underwriting, claims, and fraud. How does it work? Advanced techniques are used to analyze the data collected from your IoT devices. That information is then applied to risk modeling to get a complete picture of your habits, lifestyle, and potential risk factors. So, not only can you enjoy the convenience of connected devices, but you can also potentially save money on your insurance premiums by demonstrating your responsible usage.
Chatbot-Based Customer Self-Service
Chatbot-Based Customer Self-Service" is a feature that offers a hassle-free customer experience through chatbots. With this, customers can quickly resolve administrative tasks such as billing support or address changes or find basic information, such as how to submit a claim, all on their own. This feature leverages NLP (Natural Language Processing) algorithms to provide quick and efficient digital customer service. How does it work? Customers interact with the chatbot through an interface, such as a website or mobile app, and can receive immediate support and answers to their questions 24/7. This improves the customer experience and frees up time for insurance agents to focus on more complex tasks.
Churn Prediction
"Churn Prediction" is a powerful feature that helps businesses keep their customers happy and loyal. By using advanced algorithms and machine learning techniques, this feature can identify which customers are at risk of leaving and why. This allows businesses to proactively address potential issues and prevent churn from happening.
The system collects and analyzes data from a variety of sources, including customer behavior, demographics, and feedback. This information is then fed into risk models, which use statistical algorithms and NLP to identify the most likely drivers of churn. The system then generates a churn risk score for each customer, highlighting those who are most likely to leave. By receiving this information, businesses can take action to improve customer satisfaction, resolve any issues, and ultimately reduce churn.
Claims Adjuster Automation/Support
The Claims Adjuster Automation/Support feature uses cutting-edge technology to streamline the claims settlement process for adjusters. By utilizing tools such as video, imagery and collaboration, adjusters are equipped with everything they need to determine losses and interact with customers to settle claims efficiently. The technology behind this feature is designed to analyze vast amounts of data, including policy information, customer interactions and claim history, to provide adjusters with the most relevant information at their fingertips. This not only saves time and improves the accuracy of the claims settlement process, but it also enhances the overall customer experience by allowing for faster and more efficient resolution of their claims.
Claims Estimation
Claims Estimation" is about making the claims process a breeze for you. No more waiting for an adjuster to come and assess the damage - with this feature, you can get an estimate of the cost of loss, replacement, or repair immediately! All you have to do is provide us with some photos of the damage, and we'll do the rest. We use cutting-edge algorithms and data from third-party sources to determine an estimate that you can rely on quickly. This way, you can get back on the road or get your life back to normal faster. So, say goodbye to the hassle of waiting for an estimate and hello to a faster, smoother claims process with Claims Estimation!
Contract Analysis
Contract Analysis" is a game-changer for insurance companies and their customers. It's a feature streamlining the process of assessing large contracts like commercial P&C and reinsurance contracts. The feature leverages the power of Natural Language Processing (NLP) and advanced algorithms to quickly and accurately identify the key coverage details and clauses within the contract. This information is then used to support customer servicing or claims. With "Contract Analysis," insurance companies can save time, reduce errors, and provide customers with a more efficient and effective experience. The technology scans the contract to extract relevant information, then uses NLP and advanced algorithms to identify and categorize the key details and clauses. This information is then organized in a way that's easily accessible for customer service representatives and claims adjusters, improving the overall customer experience.
FNOL Submission
The "FNOL Submission" feature makes it easy for customers to report a claim and start the claims process. With this feature, we use chatbots and other smart solutions to immediately collect all the necessary information. This way, when a customer experiences a loss, they can quickly and easily let us know and start getting things taken care of.
Think of it like having a helpful assistant by your side, ready to guide you through the process and make sure nothing gets missed. No more complicated forms to fill out, no more navigating a confusing process on your own. With "FNOL Submission," we've got your back every step of the way.
Fraud Detection
The Fraud Detection feature is a game changer in the insurance industry. It's like having a highly trained fraud expert by your side 24/7. This feature uses advanced techniques to identify claims and underwriting fraud in real time. No more waiting for months to uncover fraudulent activities. The best part? It does all of this automatically!
When it comes to detecting fraud, our chatbot technology uses a combination of cutting-edge algorithms and data analysis. It analyzes claims data and underwriting information in real-time to identify any suspicious patterns or anomalies. By doing this, it can quickly flag any instances that may be fraudulent and bring them to the attention of the claims adjusters.
The chatbot takes all the information it's been fed, runs it through its complex algorithms, and then compares it against a database of known fraudulent behavior. If anything stands out, the chatbot immediately alerts the claims adjusters. This way, any potential fraud can be nipped in the bud, ensuring a fair and honest claims process for everyone involved.
Intelligent Process Automation
Are you tired of manual, time-consuming processes taking up your day? Look no further because our Intelligent Process Automation has got you covered! We use a combination of cutting-edge analytics and automation solutions to streamline and simplify your workflow. No more wasted time, just smarter and more efficient processing. Say goodbye to repetitive and tedious tasks and hello to a more productive workday
The Intelligent Process Automation feature combines the power of advanced analytics with the efficiency of automation solutions. This allows us to streamline workflows and improve the overall processing experience. It uses sophisticated algorithms to analyze large amounts of data, making the triage of work much more efficient and effective. By automating repetitive tasks and making decisions based on data-driven insights, we can work smarter and provide a seamless experience to our customers.
No-Touch Claims Processing
Tired of hitting a wall when trying to process your claims? Say hello to our new "No-Touch Claims Processing" feature! It's designed with the goal of taking all that tedium and frustration out by making sure you get answers quickly. No more endless back-and-forth or waiting for days on end, just streamlined service from start to finish - we take care of it so you don't have to!
The feature employs cutting-edge technologies such as AI, machine learning, and automation to streamline the claims process. For instance, the technology can automatically verify the information and check for errors, reducing the need for manual intervention. Additionally, the process can be initiated and completed entirely through an online portal or mobile app, reducing the need for in-person interactions and making it even more convenient for the customer. With No-Touch Claims Processing, the entire claims process becomes faster, smoother, and more efficient, helping to save valuable time and resources for both customers and insurance companies.
Target Marketing
Maximize your marketing potential! With Target Marketing, you can gain a comprehensive understanding of customers to ensure they receive the ideal product or service at precisely the right time. Utilizing customer analytics, this feature helps pinpoint their likelihood for purchase as well as provide insight into products that may peak their interest - unlocking higher response rates and increased sales possibilities.
The Target Marketing feature collects data on your customers and analyzes it to uncover patterns and insights. We then use this information to understand each customer's needs and preferences comprehensively. With this knowledge in hand, we can determine the best way to reach out to each customer, whether it's through personalized email campaigns, targeted ads, or other marketing efforts. The result? A highly effective marketing strategy that drives conversions and grows your business!
Underwriting Support
Underwriting Support streamlines the underwriting process to help staff save valuable time. This feature provides automated solutions specifically designed for data analysis, risk modeling and workflow optimization so that underwriters can focus their energy on more pressing tasks. With Underwriting Support in place, businesses are well-equipped with a solution ready to tackle existing backlogs or evaluate new proposals quickly and efficiently.
This feature uses workflow automation and data analysis to help underwriting staff make risk-informed decisions. Whether it's sorting through stacks of data or running complex calculations, this solution streamlines the process and saves underwriters valuable time and energy. So, instead of spending hours on manual tasks, they can focus on what they do best – evaluating risk and making sound underwriting decisions. With the Underwriting Support feature, they'll be able to work more efficiently and effectively, leading to better outcomes for everyone involved.
Usage-Based Pricing
This means that you'll only pay for what you actually use, rather than paying a set amount for a product or service regardless of how much you use it.
Think of it as a more personalized way of pricing, that gives you more control over your costs and allows you to save money. For example, if you're a cautious driver, you can expect to pay a lower premium for car insurance because you pose a lower risk. Or, if you're an eco-conscious household, you may pay less for energy based on your responsible usage habits. The goal of Usage-Based Pricing is to make pricing fair, transparent, and most importantly, tailored to your needs.
When it comes to "Usage-Based Pricing," it's all about getting a better understanding of how people use their products or services. The idea is to track and analyze the usage patterns of each customer and then create a pricing model that accurately reflects their individual behavior. This way, people only pay for what they actually use.
Think of it this way: if you drive more cautiously, you'll pay less for your insurance coverage. Or if you have a more energy-efficient home, your utility bills will reflect that. This type of pricing is not only fairer, but it also incentivizes people to use their products or services more responsibly. It's a win-win for everyone!