Overview
AllView® leverages state-of-the-art data science techniques to create meaningful insights from video content in real-time—all without human intervention. As a result, businesses can save time and money on information gathering while getting unprecedented accuracy and reliability. The platform also works across a variety of industries including security, retail, and automotive as well as with both 2D and 3D videos making it even more versatile than ever before.
What sets AllView® apart is not just its comprehensive capabilities but its ability to help you make better decisions faster by providing quicker access to hard-to-find data points or valuable insights. Moreover, its powerful applications allow businesses to keep track of customer movements or evaluate employee compliance in record time. So with AllView®, make sure your business never misses out on any useful information or trends!
Table below summarizes the industries, use cases served by AllView®.


| Industry | Usecases |
| --- | --- |
| Manufacturing | Production line inspection, Production line automation, Product/Item identification, Production line optimization |
| Healthcare | Diagnostic image and video interpretation, Patient safety and monitoring, Healthcare operations and performance, Medical research |
| Automotive | Advanced driver assistance systems (ADAS), Levels 3 to 5 autonomous driving, In-cabin driver and passenger monitoring, Automotive human-machine interfaces |
| Agriculture | Product quality testing and sorting, Agricultural equipment productivity and automation, Animal, fish, and plant health, Growth and yield monitoring, Asset monitoring and management |
| Logistics | Warehouse and distribution center automation, Robotic bin picking, Autonomous vehicles, drones, and robots |
| Retail | Grab and Go Technology, Self-Check-Out, Mobile Scan and Go, and Verification, Retail Image Recognition and Analytics, Security and Surveillance, Improving Shopper Experience, Regulatory and Process Compliance, Business Process Automation |
AllView® capabilities in Manufacturing
AllView® is designed to meet the individual needs of customers by offering detailed customization options. Moreover, it stands out through its use of semisupervised learning techniques at the edge that promises a precise representation with minimal training data and accelerated time-to-production due to less laborious data creation processes.
With AllView®, manufacturers can empower high-precision inspections and expedite time to production. What's more, businesses of all sizes now have access to powerful data generation tools from Allerin that provide quality image datasets for commercial use. This helps drive up model accuracy while cutting costs along the way!
AllView® capabilities in Healthcare
AllView® healthcare module handles diagnostic image and video interpretation is assisting radiologists with the analysis of medical images, including X-ray, MRI, ultrasound, echocardiography, computerized axial tomography (CAT) scans, positron emission tomography (PET) scans, and fundus imaging (of the eye).
Aside from diagnostic imaging interpretation, the AllView® in healthcare addresses the use case for patient monitoring and healthcare operations, including:
Vital-sign detection and monitoring (critical-care and virtual-care applications):

Vital-sign detection can be used for both regulated and nonregulated services, such as measuring heart rate, oxygen saturation, respiration, stress levels and heart rate variability.

Patient slip and fall (aged care facilities and home healthcare):

using machine vision analytics to alert staff automatically if a patient or inmate falls over or tries to get up unassisted.

Insurance claims, practice revenue analysis and patient care evaluation (dental service organizations):

validating treatment and healthcare claims against image evidence to prevent fraud and improve client care.
AllView® capabilities in Automotive
The AllView® system plays a crucial role in the automotive industry as it works towards producing fully autonomous vehicles in the near future. Some of the main areas where AllView® is used in the automotive sector include: advanced driver assistance systems (ADAS), autonomous driving at levels 3 to 5, monitoring of drivers and passengers inside the vehicle, and automotive human-machine interfaces.
The AllView® automotive module includes Advanced Driver Assistance Systems (ADAS) as one of its core features, providing machine vision capabilities for a variety of automotive applications. ADAS has become a standard feature, even on base models, and is expanding in functionality with features like adaptive cruise control, collision alerts, and some steering assistance. Level 3 autonomy is currently in the early adoption phase, while levels 4 and 5 (high and full automation) are not expected to become widespread until after 2025.
AllView helps its users to prepare for the challenges of driving at night, in poor weather, and other adverse conditions. In addition, AllView® offers in-car telematics, focusing on new Human-Machine Interfaces (HMIs) for automotive OEMs to reduce driver distractions and cognitive load, Improved HMI ergonomics and user experience are significant factors for car buyers and fleet managers, in addition to safety considerations.
AllView® capabilities in Agriculture
The agricultural industry is often thought of as slow to adopt technology, but the AllView® agriculture module provides a range of potentially valuable business opportunities and a wide variety of applications. Some of the top use cases for AllView® in agriculture include:
Inspection and sorting of products for quality Increasing productivity and automation of agricultural equipment
Monitoring and management of animal and plant health, including disease, weed, pest, and parasite control
Tracking growth and yield
Monitoring and managing assets
AllView® employs various data collection methods, including satellite, aerial, and drone imagery, high-definition cameras, webcams, microscopes, and standard off-the-shelf cameras. Different vision modalities and sensors are used for analysis, including hyperspectral and optical imaging, along with input from electrochemical and mechanical sensors, soil, weather, geolocation, and airflow Sensors. AllView® sets itself apart by creating advanced computer vision features that are tailored to specific crops and animals, providing value to targeted segments in the agricultural ecosystem.
AllView® capabilities in Logistics and Supply Chain
The logistics and supply chain industry relies heavily on machine vision technology to stay competitive and adapt to changes in the operating environment. AllView® helps logistics companies address key challenges through the use of machine vision, including:
Automating warehouses and distribution centers
Implementing robotic bin picking
Using autonomous vehicles, drones, and robots
AllView® is transforming the logistics industry by providing solutions to labor shortages, costs savings and improved worker safety. Utilizing advanced 2D imagery technology combined with powerful latent space variation algorithms and super rendering capabilities, AllView® can create a realistic 3D simulation of products complete with detailed labels that vary in quality assurance measures – allowing users across various industries such as agriculture greater productivity when sorting, putting away or counting items while monitoring warehouse traffic management too!
AllView® provides comprehensive remote technology solutions tailored to the needs of organizations, large and small. Our ready-to-use system is easy to deploy with reliable technical support services available at every step - all backed by our commitment to superior customer service. With engagement models that cover any size business, AllView® offers personalized plans alongside software or base platform packages for maximum flexibility.
AllView® capabilities in Retail
Many retailers are looking for ways to improve the shopping experience for their customers without sacrificing profitability. AllView® can help by offering a range of solutions that enhance efficiency while protecting profits. These include grab and go, self-check-out, mobile scan and go, and check-out verification.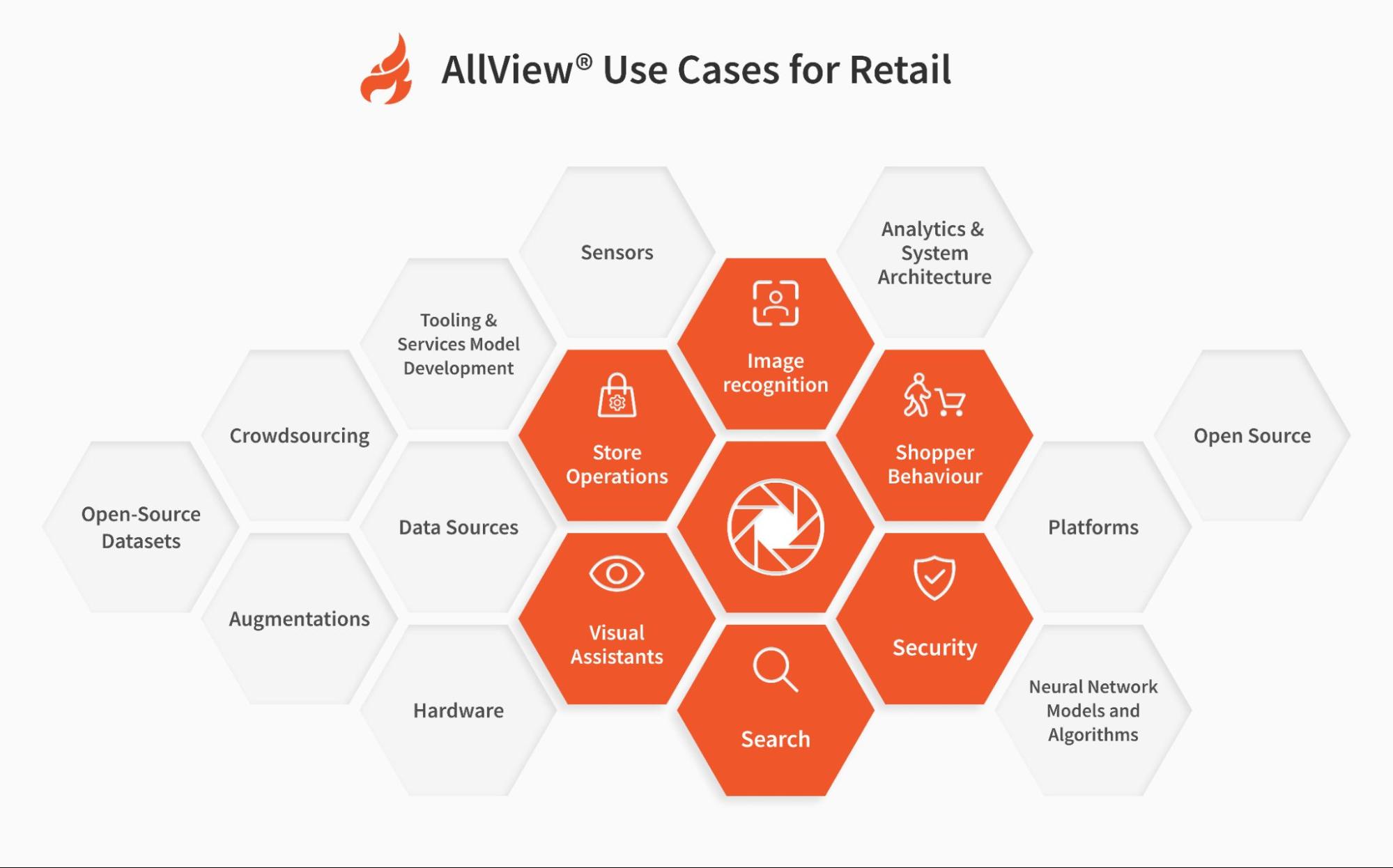 Grab and Go
Grab and go technology allows customers to make purchases and complete transactions without waiting in line. AllView® uses a combination of computer vision, machine learning, analytics, shelf sensor fusion, and back-office processing to track shoppers and reconcile their product selections and payments. This allows businesses to monitor what customers have selected and facilitate the transaction and payment process, issuing an e-receipt automatically as the customer leaves the store.
Self-Check-Out, Mobile Scan and Go, and Verification
For self-check-out and mobile scan and go transactions, vendors need to deliver products that can quickly analyze and cost the contents of a shopping basket without creating the queues that led to check-out automation in the first place. Retailers and shoppers have become accustomed to self-check-out options, especially in larger grocery stores, to reduce queue wait times. Options include:
Using product identification methods other than bar codes to accurately identify scanned products
Providing self-check-out stations for customers to scan and pay for their purchases as they approach the store exit
Allowing shoppers to use a smartphone app or store scanner to scan and pay for items as they shop, with billing automatically based on the scanned items.
Self-check-out, mobile scan and go, and check-out verification technologies help reduce wait times by allowing customers to scan and pay for their purchases themselves. AllView® can assist retailers in preventing margin erosion due to fraud, theft, and errors by shoppers using self-check-out systems. With AllView®, retailers can use a combination of computer vision, weight sensors, and historical data to verify that the declared items match the weight and appearance of the cart. This helps to ensure compliance and reduce losses from self-check-out scams, which can account for up to 4% of total revenue for large grocery stores operating on slim 1.5% margins.
Boosting Retail Revenue and Productivity
AllView® Retail image recognition technology helps retailers and brands identify products on store shelves and provides key performance indicators (KPIs) and dashboards. AllView® computer vision analytics solution has ensures attractive return on investment for mall operators and retailers, the ability to deliver a range of customizable KPIs to various customer groups (including consumer packaged goods companies, brand merchandisers, field sales teams, and retailers), and the development of end-to-end data pipelines that manage the complexity of image analysis.
To use AllView®, a fixed store shelf camera is used to capture an image of the shelf display, or a store employee, sales representative, or merchandiser can use a phone or tablet to take a picture. AllView® can also be integrated with in-aisle robots to capture images. These images are then uploaded to a cloud service, and within a few minutes, the user receives a list of KPIs. Such as
Identifying and counting products
Tracking the presence and availability of different brands on store shelves
Ensuring adherence to store layout plans (planograms)
Evaluating prices and ensuring price tags are correct.
AllView® helps retailers and brands achieve a strong return on investment by providing end-to-end data pipelines that support key business goals like sales force automation, merchandising, and store operations. It also includes features and options that make it easy for retail industry customers to test and evaluate AllView® in their own environment before making a purchase.
Immediate and Proactive Retail Security
The increasing threat of violence, theft, and fraud has led to the adoption of security technologies in malls and stores. To protect customers and employees, these businesses are seeking cost-effective solutions that prevent bad actors from entering and maintain a safe and pleasant shopping environment. Security cameras are a common tool for this purpose, but the large volume of video footage they generate can be overwhelming for security staff to manage.
AllView® can help retailers and mall operators address this challenge by using deep learning models trained in behavior detection to automatically identify and alert security staff to suspicious or dangerous behavior, such as loitering, soliciting, fighting, slip and falls, and crowd behavior. This advanced video analytics technology can automate monitoring and generate alerts, freeing up security staff to patrol and respond to events more efficiently.
In addition, AllView® can be trained for weapons detection analytics that can be used withcar park surveillance cameras to identify active shooters who are retrieving weapons from their vehicle before entering the mall. Some countries also maintain national watchlists of individuals who are banned from certain locations, and facial recognition vendors can alert retailers and entertainment venues when these individuals are detected.
Better Shopper Experience
Retail businesses are feeling the pressure to innovate and drive technology deeper into their operations in order to combat declining margins and mall occupancy rates. AllView® helps retailers bridge the gap between online and physical stores by providing advanced analytics that can be integrated into business processes and customer experiences. This includes features such as reverse image search for finding and sourcing similar or identical products online or in the physical world, and virtual and mixed reality solutions that enhance the shopping experience.
AllView® can also help retailers deliver excellent customer experiences at the store level by providing staff with the right technology to meet their own needs and those of customers. This includes sensor fusion and retail analytics that provide visibility into store and mall operations, such as dynamic rostering to match staffing levels to customer traffic and queue management. Other benefits include tracking customer interactions with staff and products, optimizing store layouts and displays, and analyzing shopper demographics and behavior. AllView® can also facilitate facial recognition of VIP visitors or known offenders on watchlists to improve the shopping experience.
Physical Safety and Security
By implementing AllView® for physical safety and security, organizations can gain the following:
Real-time visibility and insights into remote locations
Enhanced employee and customer safety through process enforcement
Detection and prevention of potential threats to facilities, equipment, resources, and personnel
AllView® provides key safety tools to help safeguard businesses and employees. With the use of advanced artificial intelligence technology, it enables organizations to identify potential risks, detect behavior abnormalities and secure remote spaces – all while enabling more effective customer service in such industries as retail and manufacturing.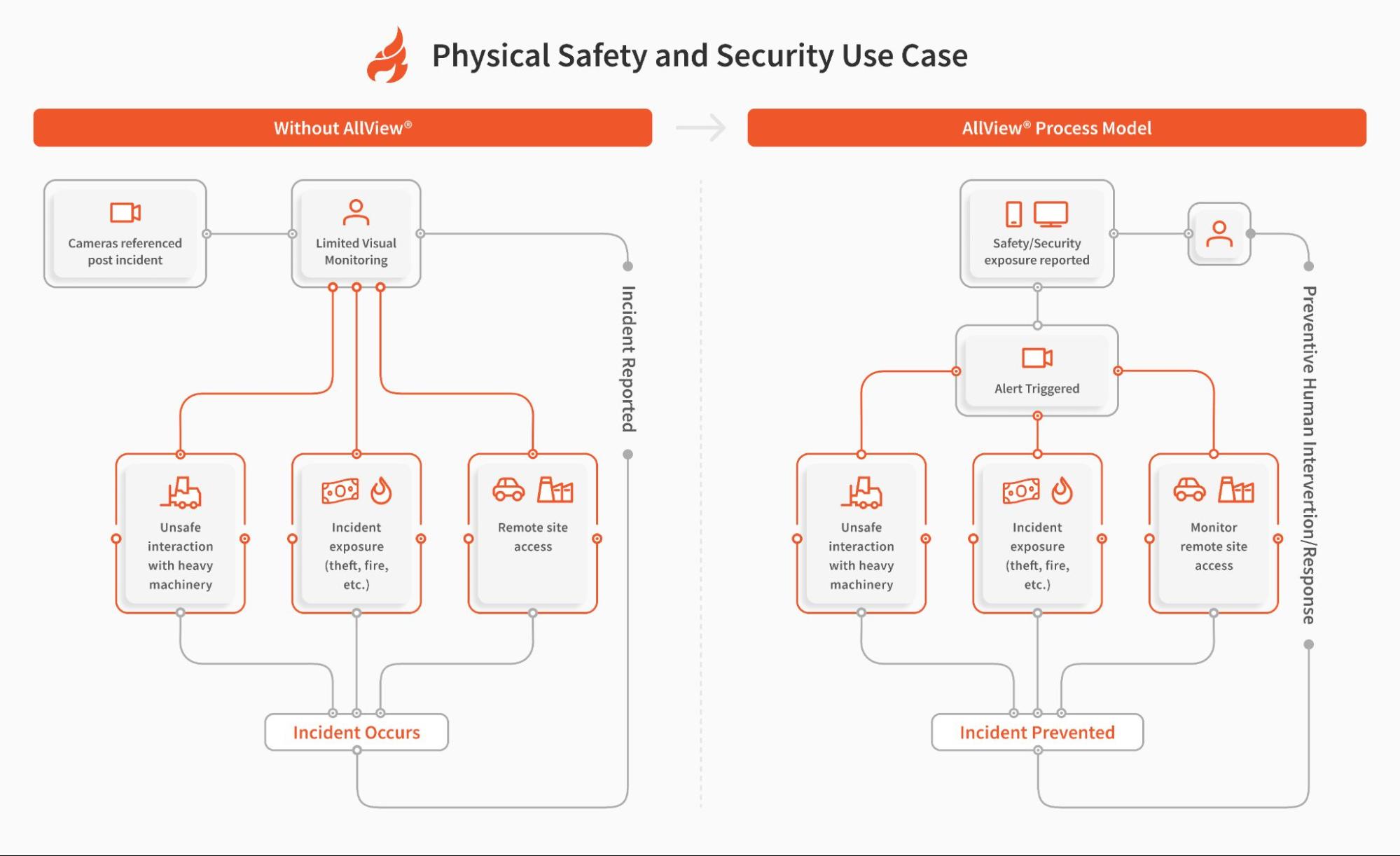 Regulatory and Process Compliance
There are an increasing number of edge AI computer vision (CV) applications for regulatory enforcement and process management. Companies using these solutions aim to monitor and enforce internal and external regulations and standards, including those related to product quality, service delivery, and safety. AllView® is a tool that can assist organizations in improving their compliance with these regulations and protocols. The primary ways in which AllView® can impact business operations are shown in Figure .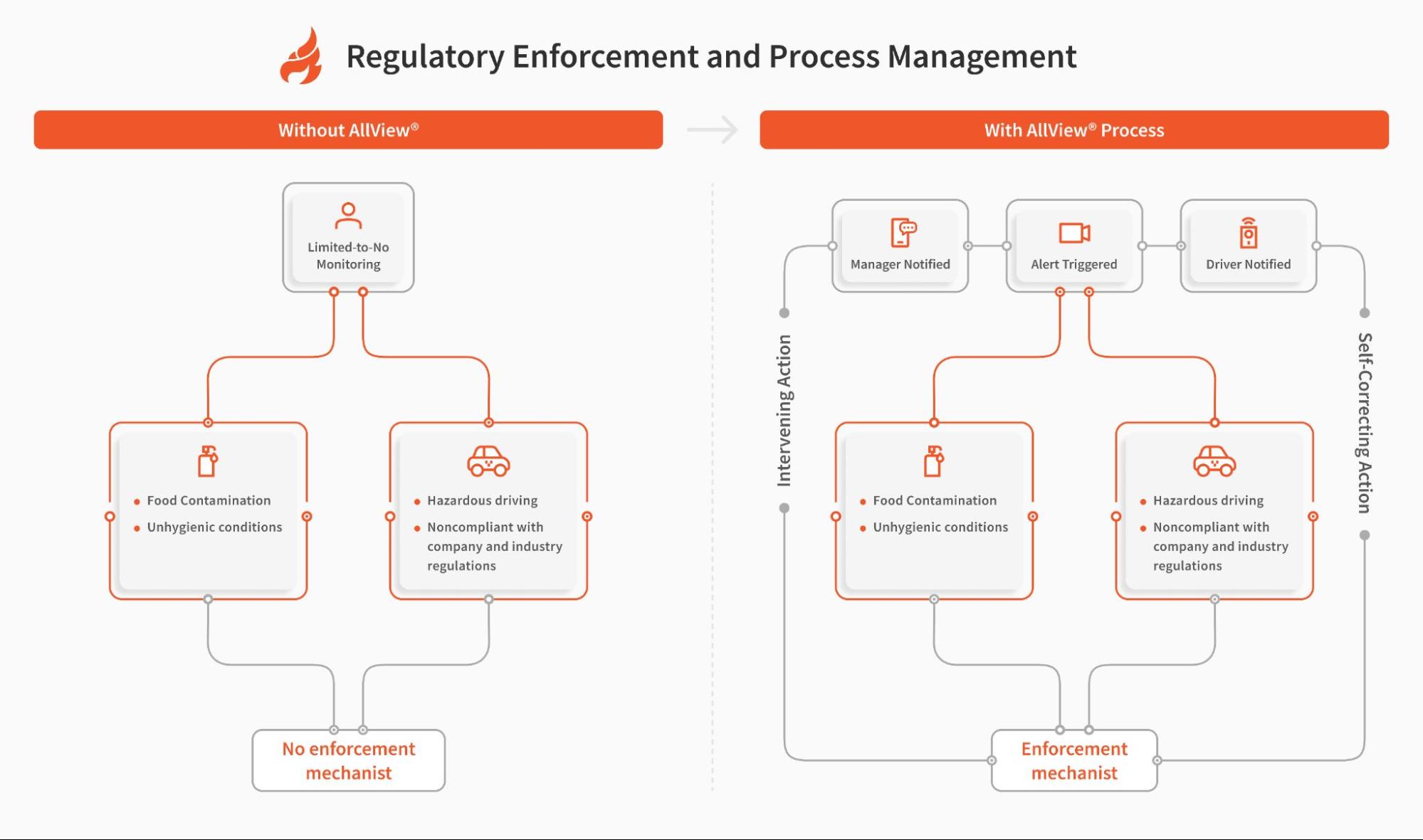 By using AllView® for regulatory compliance and process enforcement, organizations can expect to see the following benefits:
Improved compliance with both internal and external regulations and standards
Enhanced employee and customer safety through the enforcement of established processes, such as equipment operation best practices, truck driving guidelines, and food preparation protocols.
Automates Business Processes for Efficiency and Cost Savings
With AllView®, you can improve the efficiency, accuracy, and quality of your processes in industries such as industrial manufacturing, retail and grocery, and healthcare. Whether you're looking to speed up your production line or enhance the efficiency of your operating rooms, AllView® has you covered.
The figure below illustrates how AllView® can be used to address various business proces improvement use cases. By using AllView®, you can expect to see the following benefits: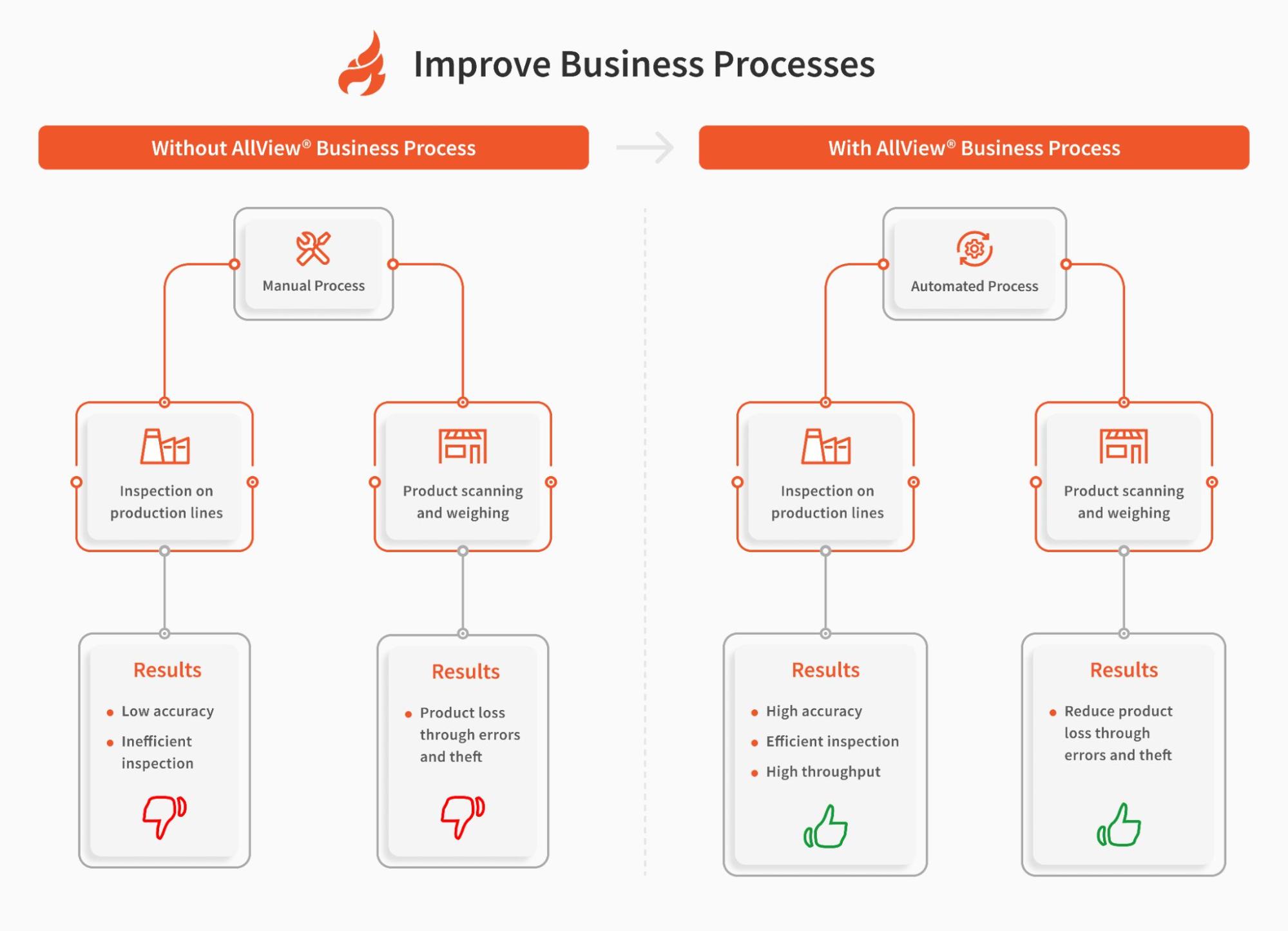 Increased production throughput
Enhanced product quality
Improved operational efficiency
AllView® can turbocharge your business automation software! Through model compression and the development of sophisticated CV analytics, AllView® provides data acquisition for deep learning training resulting in detailed prediction accuracy. Put simply: You'll get more from your tech investment!
AllView® Analytics
| Traffic management | | |
| --- | --- | --- |
| | ANPR/ALPR | Automated number plate recognition |
| | Wrong way | Identifying vehicles and people traveling in the wrong direction |
| | Red light | Detecting vehicles running red lights |
| | Crash | Automatic detection of car accidents |
| | Congestion | Automatic detection of traffic congestion, delays, and stoppages |
| | Speed | Automated detection of vehicle speeds, often for ticketing purposes |
| | Model | Identifying specific vehicle models |
| | Color vehicle type | Identifying specific vehicle colors |
| | Skid (audio) | Detecting the sound of skidding vehicles as an indicator of a potential collision or loss of control |
| | Seat belt detection | Determining if vehicle occupants are wearing seat belts |
| | Mobile phone usage | Determining if vehicle occupants are using mobile phones while driving |
| | Smart parking | An analytics tool to help drivers find available parking spaces |
| | Tailgating | Detecting multiple people using a single person's credentials to access a door or gate |
| Asset Management | | |
| --- | --- | --- |
| | Asset monitoring | Monitoring the condition of physical assets |
| | Damage detection | Detecting damage to physical assets, such as cracks, rust, or decay |
| | Manufacturing | Monitoring for alarm conditions in a production line |
| | Nuisance alarm suppression | Reducing false alarms without compromising sensitivity |
| | Alarm prioritization | Prioritizing alarms based on importance |
| | Redaction/pixilation | Blurring or obscuring faces, license plates, or other identifying elements in video streams |
| Alarm Management | | |
| --- | --- | --- |
| | Metadata autotagging | Automatically tagging video with metadata for search and storage purposes |
| | Loitering | Detecting individuals loitering |
| | Left object | Detecting abandoned objects, packages, or bags |
| | Removed object | Detecting removed objects |
| | Slip and fall | Detecting graffiti |
| | Line crossing | Detecting people slipping, tripping, falling, or lying on the ground |
| | Intrusion detection | Detecting intrusions across a line or specific area |
| Behavior and Object Recognition | | |
| --- | --- | --- |
| | Fighting | Detecting intrusions across a perimeter or through doors, windows, walls, fences, or barriers |
| Crowd/Group Monitoring and Management | | |
| --- | --- | --- |
| | Riot | Detecting people fighting |
| | Occupancy | Detect number of individuals in a contained location |
| | Counting | Counting the number of people in a defined area |
| | Running | Detecting people running in a scene |
| | Direction | Determining the direction of crowd movement |
| | Congregation | Detecting people congregating in a specific area |
| | Heat map | Generating a heat map showing the intensity of activity in different areas of a scene |
| | Path | Tracking the paths of movement through an area based on activity levels |
| | Dwell time | Measuring the time people spend at particular locations in a scene |
| | Wait time | Detecting long wait times in queues |
| | Queue management | Monitoring the location and length of queues to reduce wait times |
| | Suspicious meeting | Detecting individuals meeting and interacting in a scene |
| Facial Recognition/Verification | | |
| --- | --- | --- |
| | n:n | Many-to-many identification of individuals |
| | 1:n | 1-to-many identification of individuals |
| | 1-to-1 | 1-to-one identification of individuals |
AllView® is an invaluable resource for businesses in many industries, assisting them on their journey to operational excellence. Its advanced computer vision technology enables a wide range of powerful data analysis capabilities such as machine vision, optical character recognition (OCR), image and pattern recognition, facial detection/recognition and object classification – all designed to deliver crucial insights which can drive success. Let AllView® open up new opportunities by providing the necessary tools needed to reach maximum efficiency in your processes - don't be left behind!